HDMIC4PlasticCableEndPlugLockWithHDMIReceptacle代碼GT1H122001XX(Z205)規格:電流:0.5A線徑:28AWG耐溫範圍:40°+85°防水等級:IP67DownloadDrawingPRO">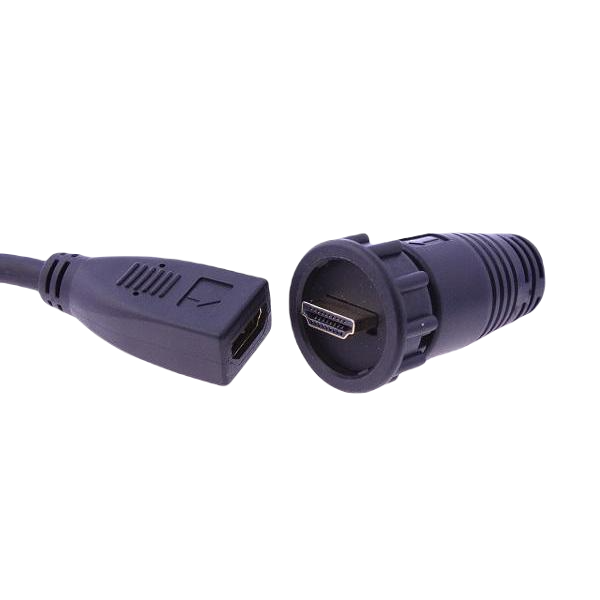 HDMI C4 Plastic Cable End Plug Lock With HDMI Receptacle
代碼
GT1H1220-01-XX(Z2-05)
規格:
電流: 0.5A
線徑: 28 AWG
耐溫範圍: -40° / +85°
防水等級: IP 67
Download Drawing
Material
Cable End Screw Nut
PA66
HDMI Plug Housing
PBT
HDMI Plug Contacts
Copper Alloy, Au Plating
HDMI Receptacle Shell
Copper Alloy, Ni Plating
HDMI Plug Shell
Silicone
Inner Mold
PE
Over Mold
PVC
Technical Data
Insulation Resistance
DC500V±10%' test for 1 minute and the insulation resistance should be more than 100MΩ
Dielectric Withstanding Voltage
500 V DC/AC peak, contact-to-contact, for 1 minute. 750 V DC/AC peak, contact- to-test panel or contact-to-shield for 1 minute.
Contact Resistance
30mΩ at 10mA Max.
Durability
1,500 cycles insertion/extraction cycles at a maximum rate of 200cycles per hour.
Thermal Shock
5 cycles at -40° / +105°,after the test, the function and appearance can't be impacted.
Waterproof Test
Submersion in water 1 meter for 30 minutes.